Garage Door Repair
Back To Our Services
Need garage door repair in Port Washington? You've found the best garage door service company in the area. At Garage Door Co Port Washington, we have an experienced and professional team of contractors that can help with all types of garage door repair, including broken spring repair, garage door replacement, torsion spring repair,extension springs repair, and garage door cable repair.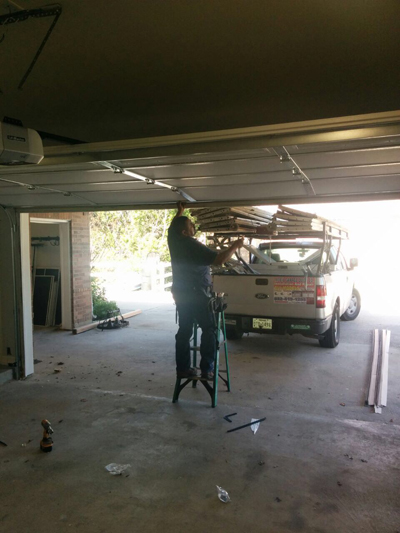 With our knowledge and skills, we can guarantee nothing but high quality garage door repair services. We aim to provide you with same day services and make sure that your door problems are addressed before we leave your home. Our company takes care of all your garage door needs whether the issue is with the parts of the working mechanism or the door. If you need the door replaced, we can handle it and make sure that your new one works smoothly. We are trained in handling all types of doors and mechanisms. We work with springs, cables, door openers and door tracks. Maintenance and door repair are our specialty. We can guarantee safe as well as a fully functional garage after we are done.
To get you back out into the community, doing the things you love, our Port Washington garage door repair professionals are equipped to deal with the following garage door problems quickly and safely:
Broken Spring Repair
Garage Door Replacement
Torsion Spring Repair
Extension Springs Repair
Garage Door Cable Repair
Replace Garage Door Panel Sections
Door Off Track
And More!
We keep numerous garage door repair parts in stock locally so you do not have to wait a long time for repairs. In fact, we offer same day service for many garage door issues because our technicians carry many tools and garage door repair parts with them. Emergency service is available 24 hours a day, 7 days a weeks. Call us anytime you have a door off track or other problem that must be fixed right away!
Garage Door Replacement Port Washington
When the problems with your garage door go beyond the need to fix garage spring problems or replace garage door panel sections, you may choose total garage door replacement. Our team of garage door experts at Garage Door Co Port Washington is knowledgeable about all major types, brands, and designs of garage doors to make the process completely stress-free for you.
Port Washington Broken Spring Repair
The process involved to fix garage spring mechanisms is more dangerous than most people would suppose. There are a couple of different kinds of broken spring repair methods based upon the type of springs used by your garage door. The two main types of springs are torsion spring repair and extension springs repair. The weight and pressure exerted by the door cause many injuries when these repairs are attempted by non-professionals.
Garage Door Cable Repair in Port Washington
Sometimes a door off track is caused by a problem that can be fixed with garage door cable repair. Cables that are not aligned properly or are broken can cause a door off track occurrence.
Whether you need garage door repair parts, torsion spring repair, extension springs repair, garage door replacement, or another garage door issue resolved, our Port Washington garage door repair professionals pledge to get the job done right. We would love to hear from you today and get started getting your garage door problems resolved.